The best of French cinema from this year's Glasgow Film Festival
February 13, 2021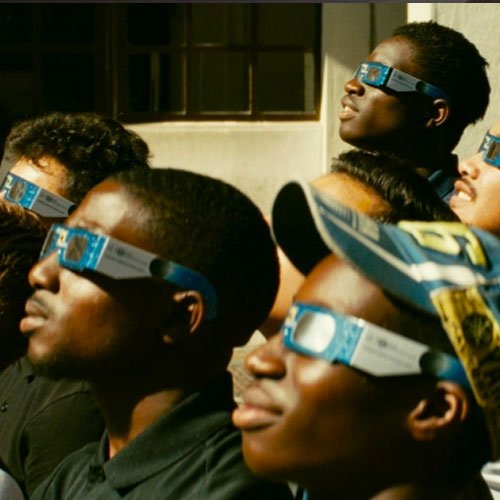 FROM 13 FEBRUARY 2021
---
Five great French titles from Glasgow Film Festival
---
This week we take a look at some of the French films that are coming up online at Glasgow Film Festival this year. It runs from Wednesday 24 February to Sunday 7 March.
From the directors of Blue Dog, featured in last year's Short Cuts programme, one of the highlights is the Fanny Liatard and Jérémy Trouilh romantic urban fantasy, Gagarine. Set in a Paris housing estate, it's a joyful celebration of community, love and shooting for the stars.
The Festival closes with the UK premiere of Suzanne Lindon's remarkably assured directorial debut Spring Blossom. Delicately evoking the worlds of Francois Truffaut and Eric Rohmer, Lindon proves herself a dazzling new screen talent in a complete charmer of a film. For a bit of a flavour why not take a look at this short introduction by FFF Director Richard Mowe in our Trailer of the Week?
To watch, all you need is a Glasgow Film At Home account. Tickets are on sale now. All films are priced at £9.99 each, and film bundles are available.
We hope you enjoy the films.
---
Jumbo
Jumbo (N/C 15+)
Available 27 February – 2 March 
Synopsis
Love is where you find it in Jumbo, a quirky charmer of a debut from Zoé Wittock, 'inspired' by a true story. Awkard, painfully shy teen Jeanne (Noémie Merlant from Portrait of a Lady on Fire) lives with her blowsy mother (Emmanuelle Bercot) and works as a cleaner at an amusement park. 
Credits
Director Zoé Wittock
Cast Noémie Merlant, Emmanuelle Bercot, Bastien Bouillon
2019 | France / Luxembourg / Belgium| English subtitles | 93 mins
---
Gagarine
Gagarine (N/C 12+)
Available 4 – 7 March 
Synopsis
A deeply romantic urban fantasy, Gagarine marks a beguiling feature-length debut from directors Fanny Liatard and Jérémy Trouilh. Built in the 1960s and named after Soviet cosmonaut Yuri Gagarin, the Gagarine housing estate in Paris has been earmarked for demolition.
Credits
Directors Fanny Liatard & Jérémy Trouilh
Cast Alseni Bathily, Lyna Khoudri, Jamil McCraven, Finnegan Oldfield
2020 | France | English subtitles | 98 mins
---
The Woman with Leopard Shoes
La Femme aux Chaussures Leopard  (N/C 18+)
Available 5 – 8 March 

Synopsis
Remember Here Comes Hell, that black and white mystery thriller that caused a Glasgow sensation? Well, here's your next retro fix, first-timer Alexis Bruchon's impressively old school yet ultra-modern noir thriller that twists, turns and twists again.
Credits
Director Alexis Bruchon
Cast Paul Bruchon
2020 | France | English subtitles | 80 mins
---
Out of the World
Hors du monde  (N/C 18+)
Available 6 – 9 March 

Synopsis
The very private Leo (a stunning performance by Kevin Mischel) has issues communicating with others due to past trauma and only lives for his music. For now, not able to have a career as a composer, he works as an Uber driver and lives in his car.
Credits
Director Marc Fouchard
Cast Kevin Mischel, Aurélia Poirier
2020 | France | English subtitles | 97 mins
---
Spring Blossom
Seize printemps   (N/C 12+)
Available 7 – 10 March 

Synopsis
Oh to be young and in love. The UK premiere of Suzanne Lindon's dreamy, remarkably assured directorial debut provides the perfect conclusion to the 2021 Glasgow Film Festival. The daughter of Sandrine Kiberlain and Vincent Lindon, Lindon emerges as a force to be reckoned with in her own right.
Credits 
Director Suzanne Lindon
Cast Suzanne Lindon, Arnaud Valois
2020 | France | English subtitles | 73 mins
---
SIGN UP TO OUR NEWSLETTER
If you're a fan of French films, why not sign up to our newsletter?
We'll bring you our recommendations of the best Francophone titles, either on demand or in the cinema.  Whether you're looking for a short film, or a full length feature there's something for everyone.

---