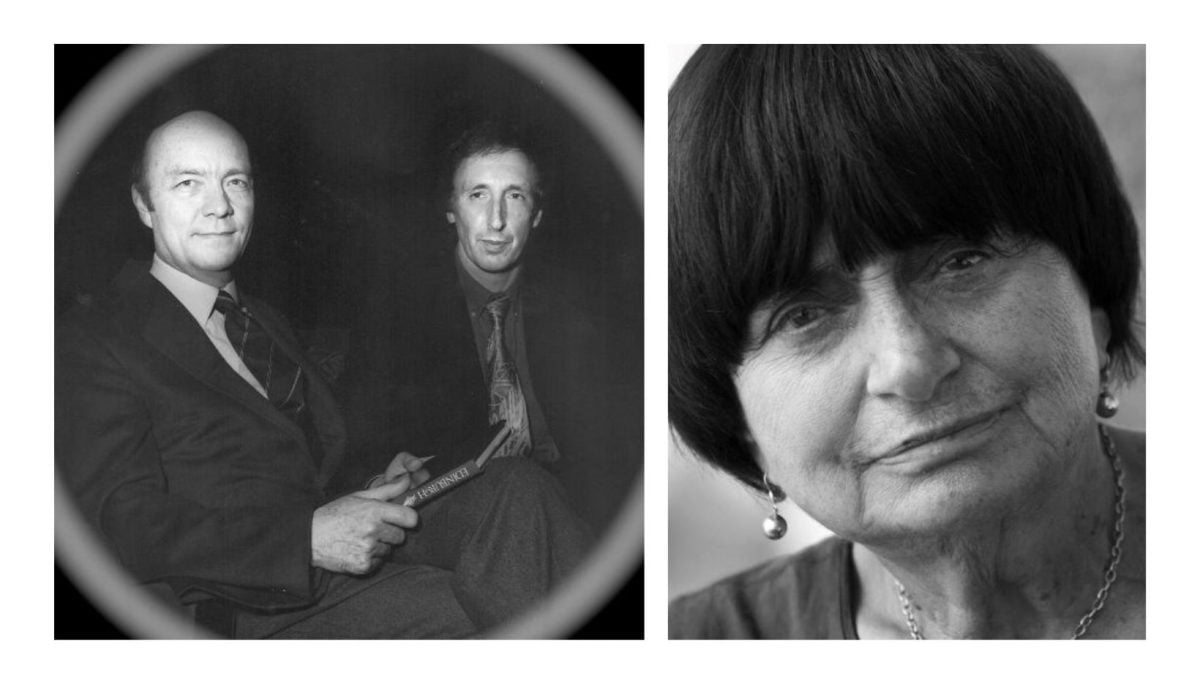 It all started in Paris. The second European Film Awards took place on a cold November evening in 1989 at the Art Deco Théâtre des Champs-Elysées. Liv Ullmann was President of the Jury, and the stellar assembly of talents included Yves Montand, Micheline Presle, Leslie Caron, and Sir Richard "Dickie" Attenborough.
As journalists, Richard Mowe and I were lucky to attend. It was a night to remember—Philippe Noiret was named European Actor for his roles in Bertrand Tavernier's La Vie et rien d'autre (Life and Nothing But) and Giuseppe Tornatore's Cinema Paradiso. Theo Angelopoulos' Landscape in the Mist was chosen as best film. Presenter Hanna Schygulla brought fellow presenter Pedro Almodóvar a chunk of stone from the Berlin Wall, which had fallen just two weeks earlier. There was a goosebump moment when a hushed auditorium listened to an audio message of welcome from Marlene Dietrich. She lived just a few streets away, and had glimpsed the preparations for the ceremony from her window. The following year, the awards would be held in Glasgow.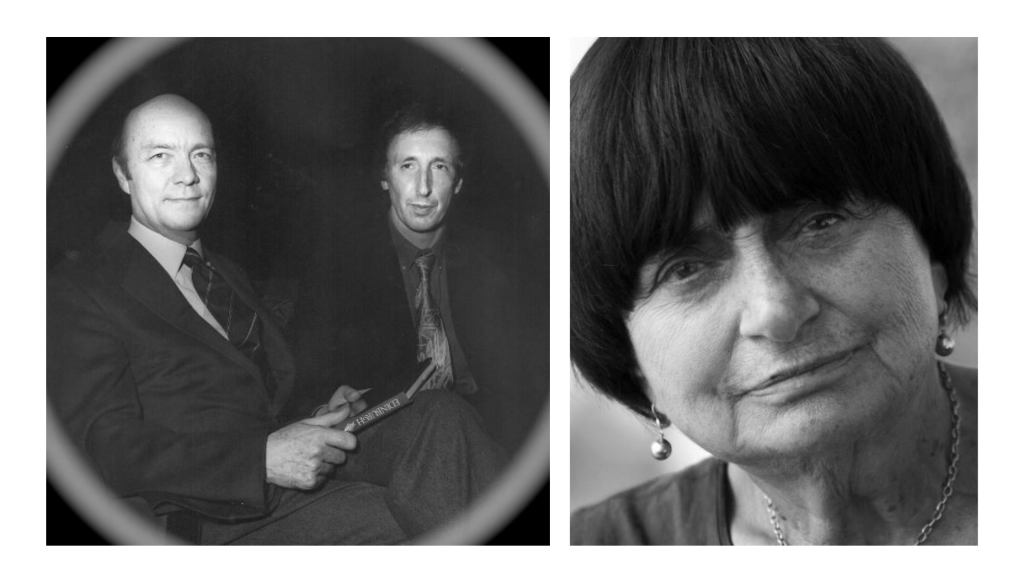 The powerful sense of a shared community that night left us both pondering why so many European films never saw the light of day in Britain. There were countless French and Francophone films that might only have made a solitary appearance at a festival and then disappeared from view. There were some notable exceptions as audiences flocked to Jean de Florette, Au revoir les enfants (Goodbye, Children) or Cyrano de Bergerac – but those were just the highly visible tip of a much more substantial national industry. There was a feeling that something should be done about it. Perhaps, we should start an event celebrating French and French-language cinema. That was how the French Film Festival UK began.
It took a little time to convince others that this was a good idea. Sponsors, venues, sales agents and filmmakers came on board – all of them have been vital partners in the Festival ever since. Later, Richard headed back to Paris to visit Jeanne Moreau, wooing her with flowers and charm as he invited her to become the patron of the Festival. She accepted.
The first Festival was held in 1992 in Glasgow and Edinburgh, opening with the devilish Josiane Balasko comedy Ma vie est un enfer (My Life Is Hell). It was to be a Festival without barriers – showcasing commercial success and arthouse promise, big titles and fresh discoveries. Focusing on short films and education work encouraged a younger generation to broaden their horizons and try something different.
In the first year of the Festival you could have seen Jean-Jacques Beineix's IP5: L'île aux pachydermes (IP5: The Island of Pachyderms) with Yves Montand, Régis Wargnier's Indochine with Catherine Deneuve, and Claude Chabrol's Madame Bovary with Isabelle Huppert (revived for this year's anniversary edition). Looking back, it is heartening to recall how much of an emphasis the Festival placed on the work of female directors. In 1993, there were new films from Coline Serreau, Claire Devers, Christine Pascal, and Anne Fontaine.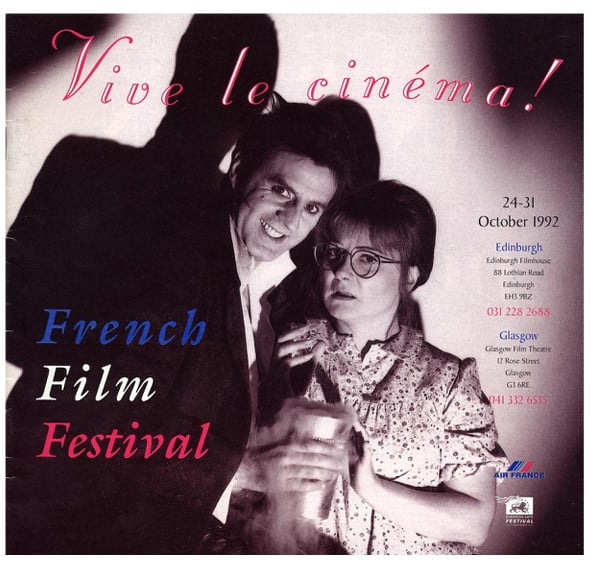 Early Festivals championed Claire Denis, Diane Kurys, Tonie Marshall, Nicole Garcia, Marion Vernoux and, in later years, such talents as Danielle Arbid and Blandine Lenoir. The Festival also developed a pretty good record for talent spotting. The first Festival included first features from Arnaud Desplechin and Brigitte Roüan. The second edition brought the first features of Cédric Klapisch and Anne Fontaine to British audiences, and later Emmanuel Mouret made his bow.
Looking back, there is such a jumble of memories from the Festival's earliest years. Who can forget Agnès Varda draped like Cleopatra across the front-row seats at Filmhouse in Edinburgh, relaxed and contently horizontal as she took questions from an audience who had just watched L'une chante, l'autre pas (One Sings, the Other Doesn't). Or Bertrand Tavernier storming around the country like a touring rock star and reviving memories in Glasgow of Death Watch, the film he made there with Romy Schneider and Harvey Keitel.
Gérard Jugnot kept his secret when an audience member at the Glasgow Film Theatre cheekily inquired whether he was a boxers or briefs man – it was relevant to his film. Jugnot was represented at the first Festival with Une Époque formidable. And Fontaine admitted that Miou-Miou would be delighted to hear that someone felt there was a striking resemblance between her and handsome co-star Stanislas Merhar in Nettoyage à sec (Dry Cleaning).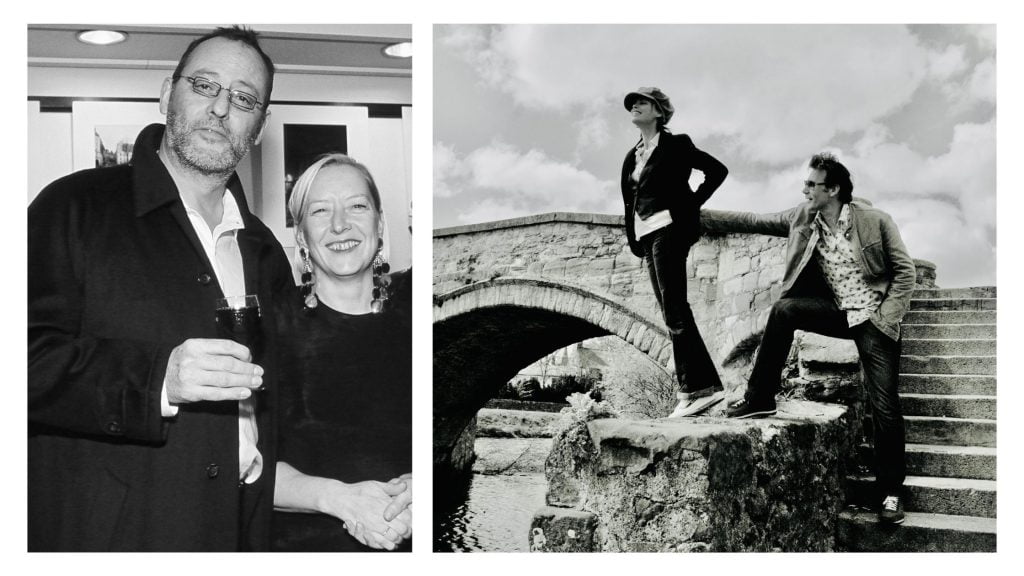 Director Jean-Paul Rappeneau, who was the subject of an early retrospective, savoured a visit to Edinburgh Castle. and subsequently has loyally made several return trips. Meanwhile, Claude Lelouch (Hommes, femmes, mode d'emploi / Men, Women: A User's Manual) went for his morning jog with Richard. He figures nostalgically in this year's edition, with Les Plus belles années d'une vie (The Best Years of a Life) as a tribute to the late Jean-Louis Trintignant. And there were so many more: Alain Corneau, Nadine Trintignant, and Jean Becker.
Over the past three decades, the unique Festival has only grown in importance as a showcase for French and Francophone films that now has a footprint across more than 35 cinemas in the United Kingdom. It has given audiences an early chance to spot rising talents and see in person a galaxy of greats that stretches from Bérénice Bejo to Patrice Chéreau, Yolande Moreau to Antoine de Caunes, Claude Sautet to Roschdy Zem, Jean Reno to Agnès Jaoui. The organisers helped bring Sylvain Chomet and his wife Sally to Edinburgh, where he stayed to make The Illusionist. Although back in Normandy, he remains a patron of the Festival.
Access to French cinema has grown easier – more films secure British distribution and more classics than ever are being restored and revived. The core values of the Festival remain the same – a grand and glorious celebration of French and Francophone cinema in all its rich variety and guises. Here's to the next 30 years!
Allan Hunter is co-director of the Glasgow Film Festival, a former co-director of the French Film Festival UK and the Italian Film Festival UK, a biographer, and a journalist contributing to many international film publications.