Powerful female drama set against the backdrop of the Algerian Civil War.
In 1979 Algiers, Nedjma, an 18 year-old student passionate about fashion design refuses to let the tragic events of the Algerian Civil War keep her from experiencing a normal life and going out at night with her friend Wassila. As the social climate becomes more conservative, she rejects the new bans set by the radicals and decides to fight for her freedom and independence by putting up a fashion show.
"Powerful tale of female friendship and independence "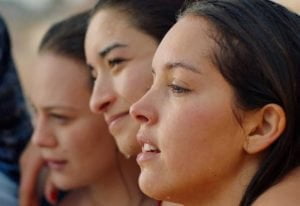 Subscribe to the French Film Festival UK newsletter
We'll bring you our recommendations of the best Francophone titles, either on demand or in the cinema. We'll also keep you up to date with all the latest happening with the French Film Festival UK which will takes place in November and December.