Here revolves around a potential love story between Stefan, a Romanian construction worker, and a Belgian-Chinese doctorate student studying mosses.
Their paths cross just before Stefan is about to move back home. There is relatively little dialogue, but Belgian writer-director Bas Devos still manages to tug the heartstrings in all the best ways and examines our relationship with the natural world as his two solitary souls find comfort.
Winner of the FIPRESCI prize at the Berlin International Film Festival awarded by international film critics.
"Being in the moment has rarely been so exhilarating."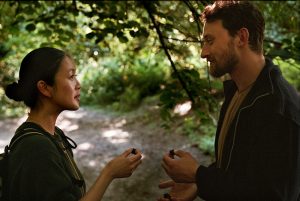 Subscribe to the French Film Festival UK newsletter
We'll bring you our recommendations of the best Francophone titles, either on demand or in the cinema. We'll also keep you up to date with all the latest happening with the French Film Festival UK which will takes place in November and December.