Az works for an oyster farmer in Sète. When he decides to hide a ring in an oyster to ask his girlfriend to marry him, she doesn't say yes.
A handsome oyster farmer in Sète vows to win back his actress girlfriend after a botched proposal. Fragile hijacks the traditional codes of comedy with a joyfully feminist take on contemporary masculinity.
"Will charm even the most hardened romantics to open their hearts to love."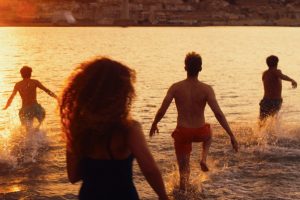 Subscribe to the French Film Festival UK newsletter
We'll bring you our recommendations of the best Francophone titles, either on demand or in the cinema. We'll also keep you up to date with all the latest happening with the French Film Festival UK which will takes place in November and December.