An instantly involving portrait of a fifty-something woman in contemporary Marseille diligently holding together several generations.
Good Mother establishes actor turned writer/director Hafsia Herzi as a significant French filmmaker. Nora, a cleaning lady in her fifties, looks after her family in a housing estate in the northern part of Marseille. She is worried about her grandson Ellyes, who has been in prison for several months for robbery and is awaiting his trial with a mixture of hope and anxiety. Nora does everything she can to make this wait as painless as possible.
"Quietly devastating yet simultaneously life-affirming, Good Mother marks Hafsia Herzi as a rare talent behind the camera."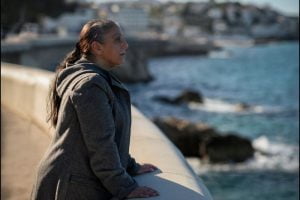 Subscribe to the French Film Festival UK newsletter
We'll bring you our recommendations of the best Francophone titles, either on demand or in the cinema. We'll also keep you up to date with all the latest happening with the French Film Festival UK which will takes place in November and December.