Jean, Patrick, Joanna, Romane and Guillaume have known each other for over 30 years. Their marriages and their children have not kept them away from each other. One spring weekend, the group of 50-somethings head to the vineyards of Champagne for Patrick's –the last bachelor of the bunch – stag party. Old tensions and slanging matches are unleashed by the unexpected arrival of his wife-to-be, who all his friends love to hate.
"Comedy about the meaning of friendship where tensions resurface, between shouting matches and reconciliations."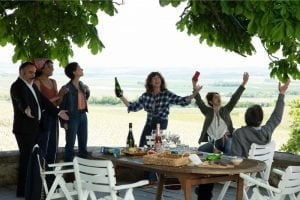 Subscribe to the French Film Festival UK newsletter
We'll bring you our recommendations of the best Francophone titles, either on demand or in the cinema. We'll also keep you up to date with all the latest happening with the French Film Festival UK which will takes place in November and December.