The beloved classic by Cécile Aubry is given a fresh modern twist.
Ten-year-old Sebastien is less than thrilled to spend a school break with his grandmother and aunt in the countryside instead of filling his days around Paris skateboarding with his friends. Though the family farm is in the stunning French Pyrenées, Seb finds herding sheep boring. That is, until he meets Belle, a canine with a heart of gold. When Seb learns that Belle is being mistreated by her owner, he's ready to draw on his urban tricks and courage to do what it takes to protect his new friend.
"Enjoyable and moving... held up by a strong cast. "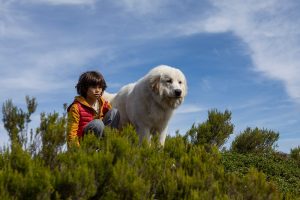 Subscribe to the French Film Festival UK newsletter
We'll bring you our recommendations of the best Francophone titles, either on demand or in the cinema. We'll also keep you up to date with all the latest happening with the French Film Festival UK which will takes place in November and December.