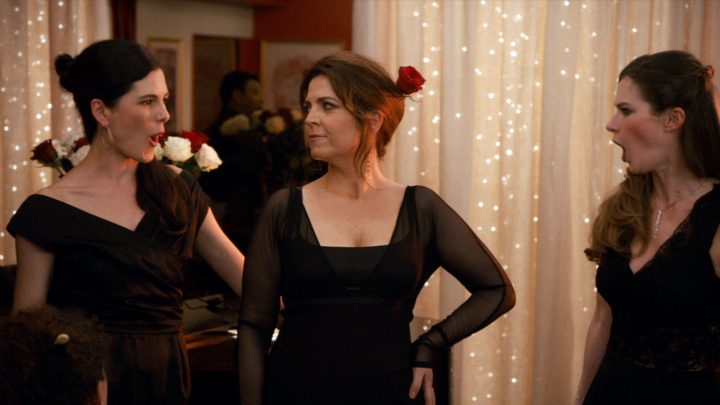 FROM 7 April 2021
---
Blandine Lenoir's I Got Life
---
This week we take a look at Blandine Lenoir's French drama, I Got Life, currently screening on the BBC iPlayer.
On her second outing as a director, Blandine treads the difficult tightrope between comedy and drama with a gift of a role for Agnès Jaoui. Premiering in the UK at the 25th French Film Festival in 2017, it's a smart and joyous observation on women, motherhood, friendship and relationships.
It's available to watch for free on the BBC iPlayer until Tuesday 13 April. We hope you enjoy the film and our look back at the 2017 Festival.
---
The Festival team was delighted to welcome Blandine and Agnès as guests at the opening screenings in London and Edinburgh in November 2017. Festival director Richard Mowe and co-director ilona Morison presented a lively Q&A with the guests at both Edinburgh's Filmhouse and London's Ciné Lumière.
Blandine and Agnès also recorded a short introduction to the film, which can be seen below as well as on our YouTube channel.
Watch the intro recorded at London's Ciné Lumière
---
I Got Life / Aurore
Available until Tuesday 13 April
Dir Blandine Lenoir

Synopsis
With humour and sensitivity, Blandine Lenoir with her second feature offers an endearing film with a perfect role for Agnès Jaoui to reveal the full extent of her talents in the title role. Aurore, separated from her husband, has just lost her job and been told that she is going to be a grandmother. She feels she is slowly being pushed out of the way, yet she refuses to be relegated to the sidelines. What if now was the time to start over? What if a whole new life could begin? She has the chance among other things to rekindle the flame for her first love Totoche (Thibault de Montalembert). Delightful, warm-hearted and brimming with charm and optimism.
What the critics say
"Strikes a realistic and unpretentious balance between moving moments and purely comical sequences…"   Cineuropa
Credits
Director Blandine Lenoir
Cast Agnès Jaoui, Thibault de Montalembert, Pascale Arbillot, Sarah Suco, Lou Roy-Lecollinet
2016 | France | 89 mins | UK Distributor Peccadillo
---
SIGN UP TO OUR NEWSLETTER
If you're a fan of French films, why not sign up to our newsletter?