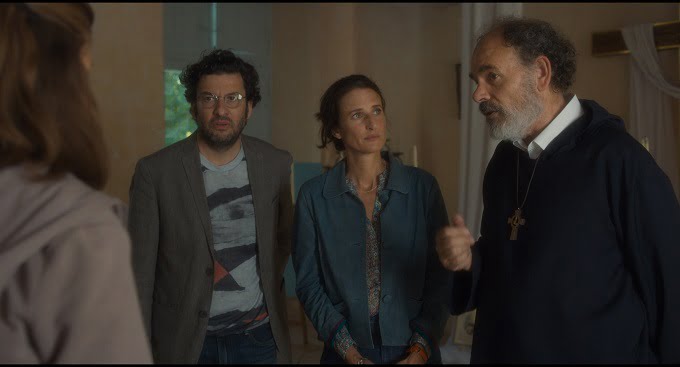 24 JULY 2021
---

---
This August, TV5MONDE explores the destinies of children facing bereavement, violence or fanaticism. Included in the line up are Amanda and The Dazzled, both previously screened during the French Film Festival UK. Read on to find out more.
---
SUNDAY 1 AUGUST (20:00)
Amanda / Amanda
A magnificent melodrama, and a devastating performance from Vincent Lacoste.
David, aged 24, lives life as it comes, without incident. In a touching story of resilience, this era of placidity is brutally ruptured, and a grief-stricken David must assume new responsibility for his niece Amanda.
Dir Mikhaël Hers
Cast Vincent Lacoste, Stacy Martin, Isaure Multrier
2018 | France | 107 mins
French with English subtitles
AWARDS & FESTIVALS
Winner, Best Screenplay, Tokyo International Film Festival (2018)
Official Selection, French Film Festival UK (2019)
---
SUNDAY 8 AUGUST(20:00)
A Childhood / Une enfance
A childhood cut short.
As summer drags by, 13-year-old Jimmy, forced by circumstance to become an adult too soon, runs up against the limits of his small hometown and his turbulent life, caught between a mother on the slide and a stepfather who keeps her down.
Dir Philippe Claudel
Cast Alexi Mathieu, Angélica Sarre, Pierre Deladonchamps
2015 | France | 100 mins
French with English subtitles
AWARDS & FESTIVALS
Official Selection, Chicago International Film Festival (2015)
---
SUNDAY 15 AUGUST (20:00)
The Dazzled / Les Ēblouis
A disturbing look at family and fanaticism.
When her parents join a charismatic religious community, Camille's life is turned upside down, cutting her off from the outside world. She will have to fight for her own freedom and to save her younger siblings.
Dir Sarah Suco
Cast Céleste Brunnquell, Camille Cottin, Jean-Pierre Darroussin
2019 | France | 99 mins
French with English subtitles
AWARDS & FESTIVALS
Winner, Air France Award, Rendez-Vous With French Cinema à New York (2020)
Official Selection, French Film Festival UK (2020)
---
ABOUT TV5MONDE
For the love of French culture – with subtitles.
Award-winning and classic films, original series, documentaries, entertainment and international news. Enjoy French lifestyle and savoir-faire programs on gastronomy, fashion, travel, history, music, and game shows. Your French touch is on TV5MONDE!
To watch any of the films listed above, just tune in to TV5MONDE on the date and time shown! Enjoy!
HOW TO WATCH TV5MONDE
TV5MONDE is now available for FREE on Amazon Fire / Android Smart TVs. Look for TV5MONDE in the App section / App store of your TV. Or watch via their website.
---

---
SIGN UP TO OUR NEWSLETTER
If you're a fan of French films, why not sign up to our newsletter?
We'll bring you our recommendations of the best Francophone titles, either on demand or in the cinema.  Whether you're looking for a short film, or a full length feature there's something for everyone.

---